Date: Aug 9, 2019 - Aug 10, 2019
Time: 9:30 am - 4:30 pm

Location
Whitlocks
Category(ies)
iCal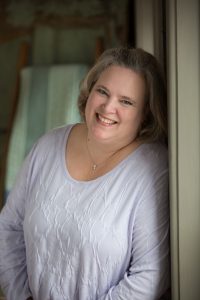 Amy Domke was a fine arts major in college. When assigned a project using an "unconventional" medium, she made a quilt with the help of her neighbor. Thirty years later, Amy is still quilting. She loves exploring new styles and trying new techniques. After many years of renting time on a longarm at a local shop, she purchased her own machine.  She now quilts professionally on an HQ Infinity with the HQ Pro-Stitcher.
Amy teaches quilting classes at her local shop, ranging from ruler classes to longarm classes. She also travels to give one-on-one instruction to new machine owners. From her studio, she also accepts quilt commissions and is in the process of releasing patterns for her original designs.  She is a member of the Handi Quilter Inspiration Squad and has been featured in some Handi Quilter ads.
BUNDLE PRICE
BOTH DAYS  $120.00
Save $20 by purchasing bundle
CALL 503-585-7771 TO REGISTER
Seating is limited.
FRIDAY, August 9
TIME:  9:30AM-12:30PM
COST: $35 Morning
 STEPPING STONES TO QUILTING YOUR FIRST QUILT
This class is for everyone – whether you've never quilted and want to learn, or if you already quilt. You will learn how to prepare the quilt top, resize and apply designs, select batting and backings, baste, and all about threads, needles and tension. Bring a finished top, if desired, to discuss ideas and approaches to finishing your quilt.
TOPICS INCLUDE:
How to prepare the quilt top and backing for quilting
How to select, resize, audition and apply quilt designs
Stitch-in-the-ditch and meander quilting
Threads, needles and tension
Batting and basting basics
 FRIDAY, August 9
TIME:  1:30PM-4:30PM 
COST: $35
 CREATIVE TEXTURES AND FILLS
Meandering is the easiest and most common filler for background space – but there are countless other creative design elements to use instead. Come expand your design portfolio by learning the stitch path of a wide variety of creative filler designs. Learn which designs lend themselves best to micro-quilting, and how to use Micro Handles for best results.
TOPICS INCLUDE:
Select appropriate fills to complement design style
Create special effects with different fillers
Scale the fill design size appropriately
Evenly place and space fills
Effectively use HQ Micro Handles
SATURDAY, August 10
TIME:  10:00AM-12:30PM and 1:30PM-4:30PM  NOTE:  Saturday starts at 10:00AM
COST:  $70
 This is a two-part all day class and not offered as separate classes.
 INTRODUCTION TO THE HQ PRO-STITCHER – ALL DAY CLASS
Part 1 HQ Pro-Stitcher is an intuitive computer-guided quilting system designed especially for use with Handi Quilter longarm quilting machines. User-friendly and simple to operate, the step-by-step process for each function is easy and fun. Whether finishing your own quilts or considering a quilting business, come see the elegant and precise quilting you can accomplish with an HQ Pro-Stitcher. New owners – start here!
TOPICS INCLUDE:
Overview of support resources available on-line
Overview of menu and basic functions and design catalog
Fit a design to a block using Skew and Resize, XForm and Align
Demonstration of the HQ Pro-Stitcher Simulator
Overview of Art & Stitch
Part 2 Let's Quilt
This class of quilting applications is an extension of Part 1 and addresses specific functions and basic techniques a quilter will use on a regular basis to finish quilts with the HQ Pro-Stitcher. Tips and shortcuts for using features of the program are included.
TOPICS INCLUDE:
What's the difference between Reposition, Nudge and Drag and Drop
The many ways to describe an Area on your quilt
Using Skew 1 vs Skew 2
Set up, crop, wrap and advance edge-to-edge designs
Quilt straight lines the easy way with Move and Channel Locks
 Snacks and Beverages will be provided both days. There is a 1-hour break for lunch from 12:30-1:30 both days.  Lunch is on your own.
We ask that you register for a class in advance. Payment is due at time of registration. You may make payment with a credit card over the phone or come into the store. Class size is limited and in many classes, we have waiting lists. If you are unable to attend a class, please call to cancel your class registration 5 (five) days prior to the date of the class. See Refund Policy located under the Calendar Section.