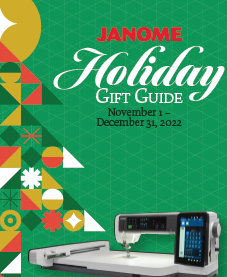 View the Janome Holiday Gift Guide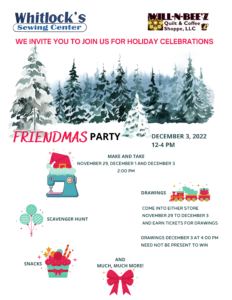 The Celebrations start November 29
Make and Take, Drawings, Scavenger Hunt, Snacks and so much more!
Friendmas Party December 3
12-4 PM
View the Invitation for dates, times and more information.   View the Holiday Celebrations Invitation
Holiday
Store Hours:
Closed Thanksgiving Day 
Christmas Eve Hours  10:00-2:00pm
Closed Christmas Day 
New Years Eve Hours 10:00-2:00pm
Closed New Years Day 
Our new address, effective Tuesday, May 3
1555 12th Street SE
Suite 100
Salem, OR 97302
Phone Number will remain the same: 503-585-7771
NEW STORE HOURS: Tuesday-Saturday 10-5
We sell and service Janome sewing machines and sergers, Handi Quilter Long Arm Machines, Miele and Riccar vacuum cleaners plus we service other brands of sewing machines.
Whitlocks service commitment standard is to satisfy you 100% of the time! Our technicians are fully equipped to explain, repair, and adjust your sewing machine, serger, long arm and Miele, Riccar or Sanitaire vacuums. We guarantee your satisfaction.
Our Quick Tip videos cover various topics, from Handi Quilter Longarm Systems to Janome Sewing Machines and Miele and Riccar Vacuums. Click the link to see more tips.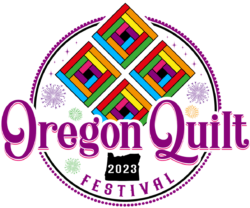 JANUARY 26-28
30+ Vendors
300+ Quilts for Display and Sale
5 Quilt Guilds Represented
Watch for more information on the Quilter's Challenge
 Email: oregonquiltfestival@nullgmail.com
Website:  www.oregonquiltfestival.com
Oregon Quilt Festival Web Link
Admission:  $10 Adults · Under 12 Free · $24 Three Day Pass
Platinum Sponsors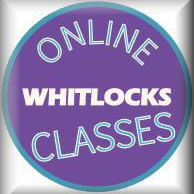 SUPERIOR THREAD
LONGARM QUILTING MACHINES
This chart will show you thread types, thread weight, description and the best needle size to use on your longarm quilting machine. Click below to view or download the PDF.
Superior Threads Longarm Thread Reference Chart
We carry a variety of Superior Threads. Come into the store or call us 503-585-7771 if you have questions regarding the right thread for your longarm quilter. Our experts are here to help.
Bottom Line
Fantasitico
King Tut
Magnifico
Monopoly
Omni
So Fine #40
Sergin' General
Our current hours are:  Monday-Saturday 10:00 am to 4:00 pm.
We will continue with the modified hours of 10 – 4 Monday –Saturday.
Because we value you and your business, we will continue to be available to take your orders, answer your questions, and concerns via phone (866) 239-2481 and email.
Longarm Sales:  866-335-9579 
Sewing & Vacuum Phone Demonstration & Information:maria@nullwhitlocks.com
Handi Quilter/Pro Stitcher Questions, Classes & Clubs:yvonne@nullwhitlocks.com
Sewing Machine Service:chas@nullwhitlocks.com
Business Office:office@nullwhitlocks.com
24 hours a day, you can contact us at www.whitlocks.com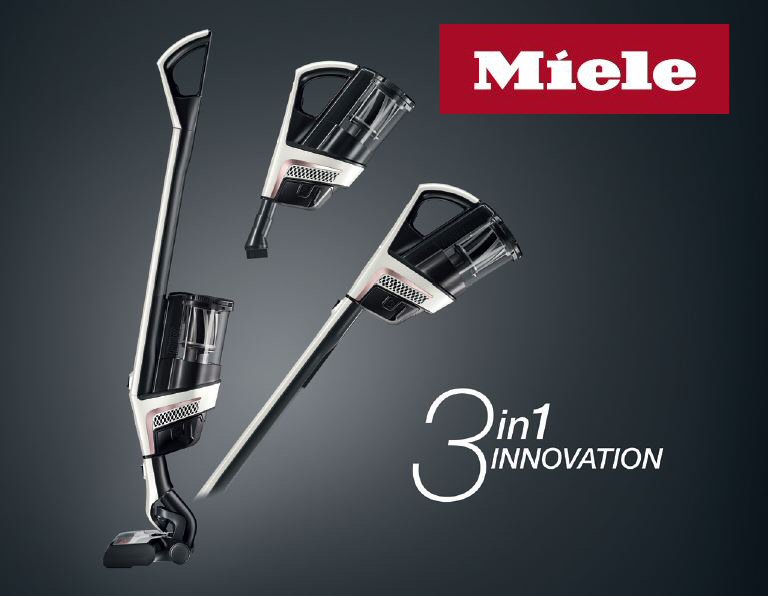 Triflex HX1 Lotus White
cordless stick vacuum
FEATURES:
Made in Germany
Powerful Miele-Made Vortex Motor™
Cleaning performance of a full-size Miele canister
11″ wide XXL Electrobrush for low to medium pile carpeting and smooth flooring
Varta® removable battery with 60-min run time, up to 1,345 sq. ft.*
Hygiene Lifetime Filter and Fine Dust Filter for 99.98% filtration
Comfortable hand grip with 3 power settings
Easily parks upright
Subscribe to Whit's Happening Blog
Our customer service and attention to details make us stand out from the rest. We pride ourselves on giving the best possible retail experience period. "Your satisfaction is guaranteed" is our commitment to you and we appreciate your business.
Since 1952, we have been the premier vacuum and sewing super center in Salem, Oregon. We are proud to serve our customers from Portland, Oregon, Seattle, Washington, Vancouver, Washington and beyond. Specializing in both vacuums and sewing machines, we carry supplies for quilting, embroidery and even furnishing your sewing salon.
As a certified and award winning Handi Quilter dealer, we feature their wide range of quilting products, which are designed to provide complete support for the most passionate of quilters. From the Handi Quilter Avante to the Handi Quilter Fusion, we connect you with the machines that help bring your projects to perfection.
Tedious threading of upper and lower loopers are a thing of the past
Simply insert thread into the specially designed ports and your thread is transported to where it needs to be with an easy push of a lever.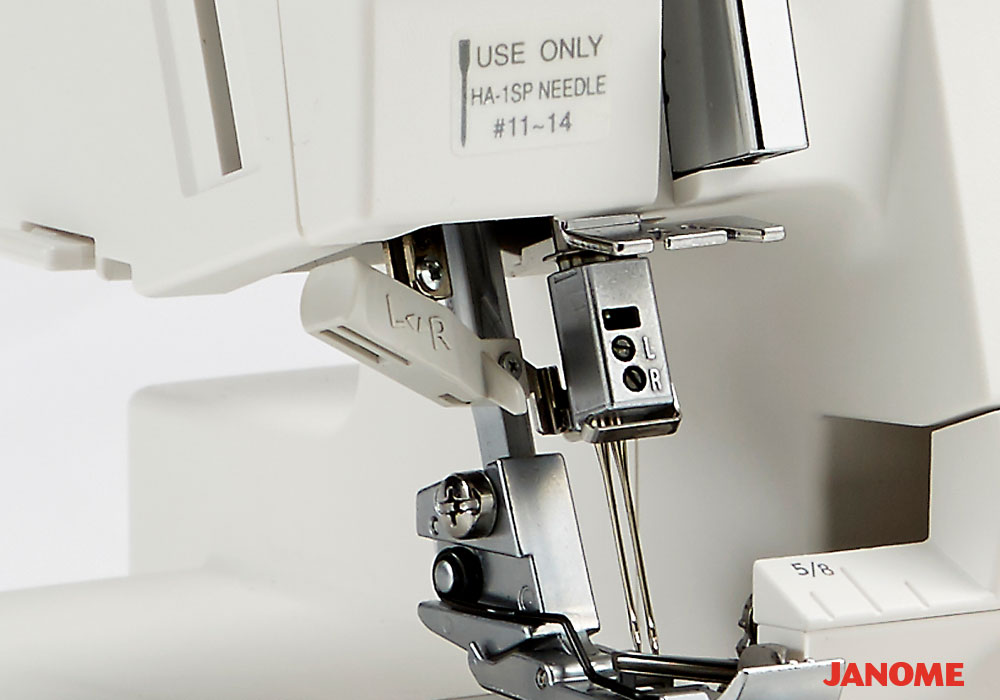 One-Push Air Threading System
Tedious threading of upper and lower loopers are a thing of the past. Simply insert thread into the specially designed ports and your thread is transported to where it needs to be with an easy push of a lever.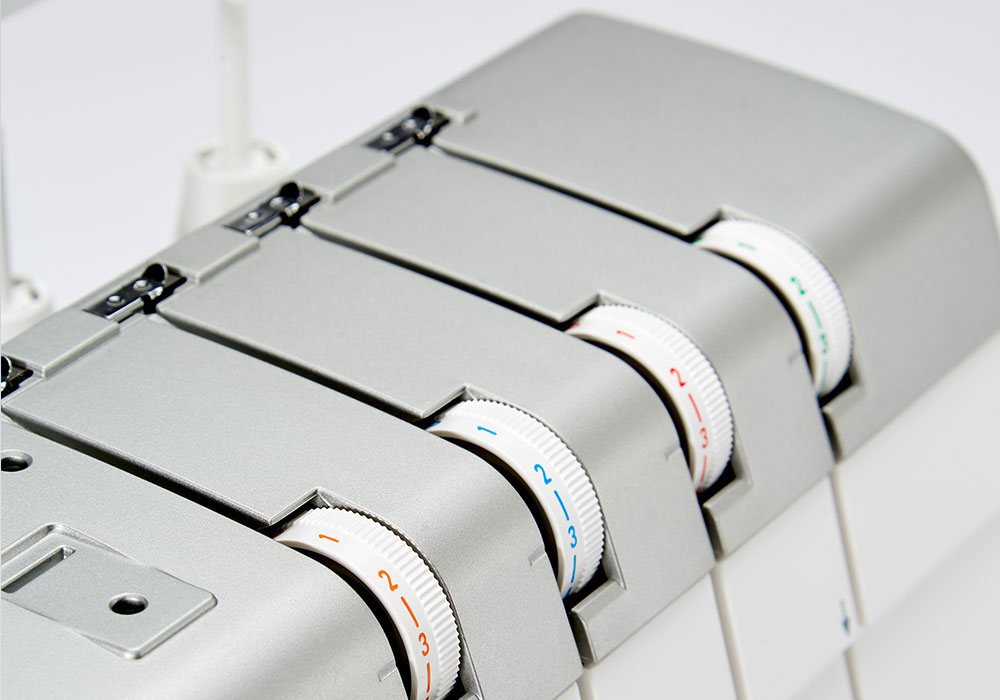 Easy Lay-in Threading
With improved slide-and-go thread guides, quickly and easily lay the thread in place. The slide-and-go thread guides take the guess work out of threading the upper tension discs – preventing errors in threading the machine correctly.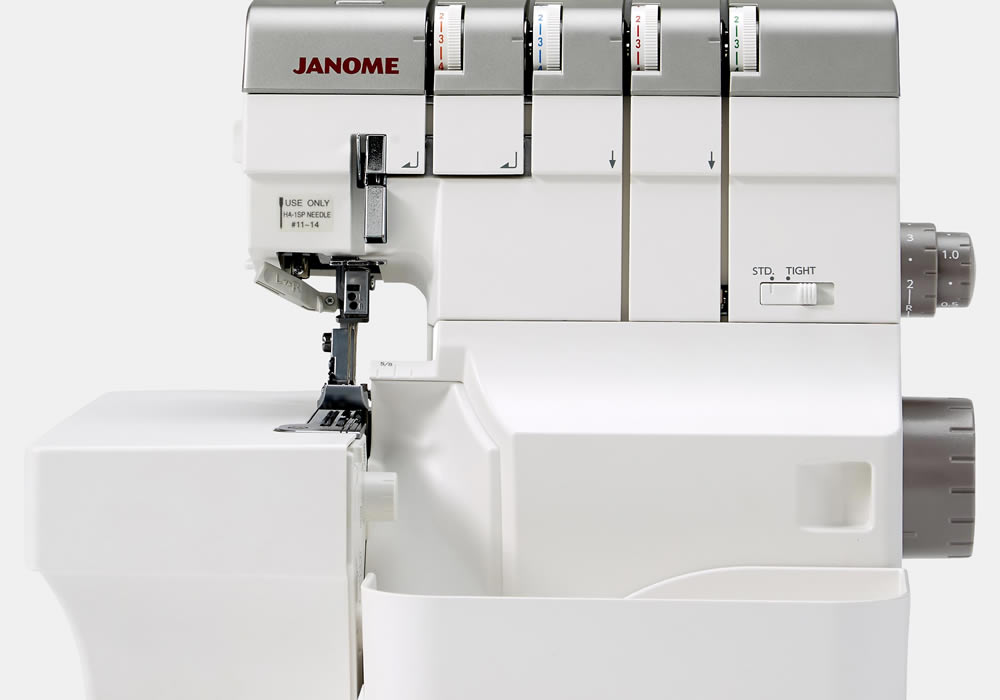 For more information:
Call 888-224-9912 or 503-585-7771
Email us at mail@nullwhitlocks.com
Come into the store and test drive!