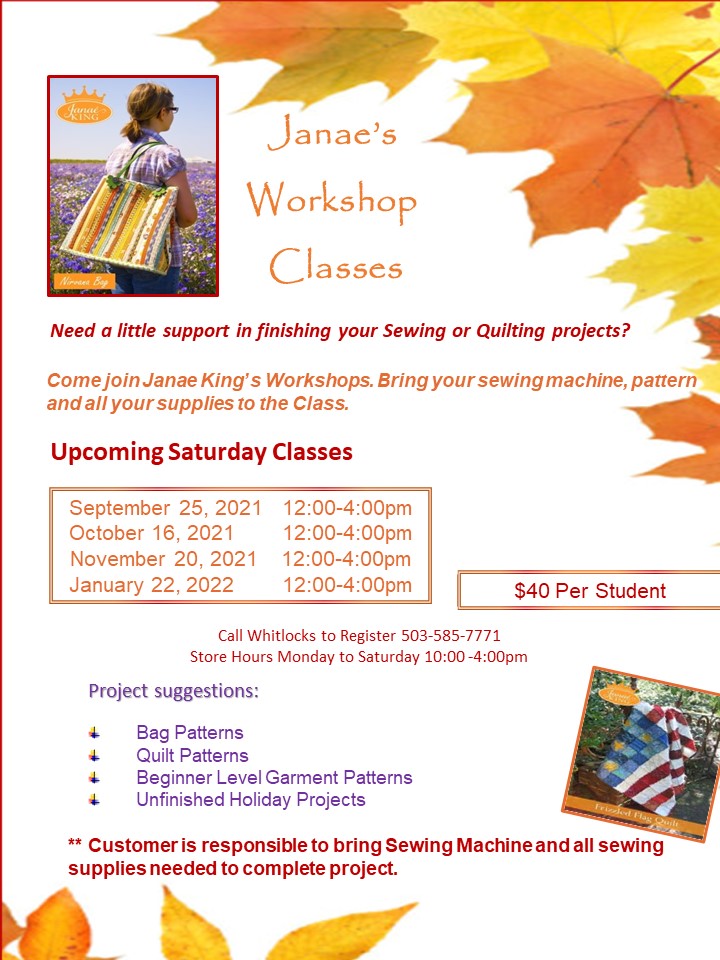 Date: Oct 16, 2021
Time: 12:00 pm - 4:00 pm

Location
Whitlocks
Category(ies)
iCal
Educator: Janae King
Sewing Workshop

Need a little support in finishing your Sewing or Quilting projects?
Come join Janae King' s Workshops. Bring your sewing machine, pattern and all your supplies to the Class.
Project suggestions: (This class is not designed for advanced patterns.)
Bag Patterns
Quilt Patterns
Beginner Level Garment Patterns such as Skirts and Pajamas
Unfinished Holiday Projects
If you are unsure if your choice of pattern is advanced, please check with the store. You may bring more than one pattern.
Call Whitlocks to Register 503-585-7771  COST:  $40 Per Student
Customer is responsible to bring Sewing Machine and all sewing supplies needed to complete project.
Each class is limited to four students. Social distancing and all State and CDC guidelines will be followed.
Classes are offered on the following dates:
September 25, 2021     12:00-4:00pm
October 16, 2021        12:00-4:00pm
November 20, 2021    12:00-4:00pm
January 22, 2022        12:00-4:00pm
We ask that you register for a class in advance. Payment is due at time of registration. You may make payment with a credit card over the phone or come into the store. Class size is limited and in many classes, we have waiting lists. If you are unable to attend a class, please call to cancel your class registration 5 (five) days prior to the date of the class. See Refund Policy located under the Calendar Section.