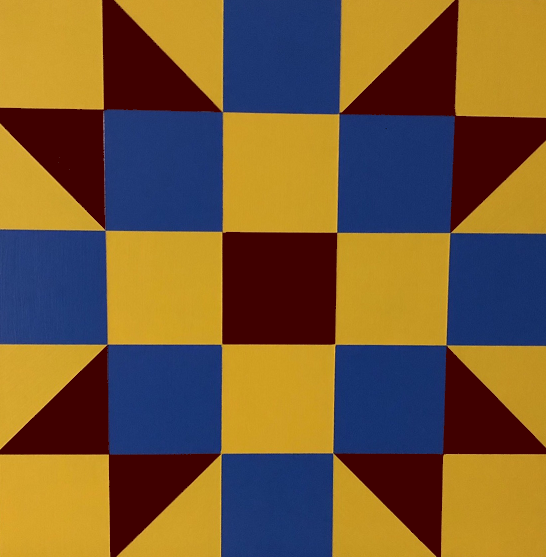 Date: May 18, 2019
Time: 10:00 am - 4:00 pm

Location
Whitlocks
Category(ies)
iCal
Barn Quilt Workshops
May 18 and July 20, 2019
Create your own customized barn quilt!  Scott and Julie Whitlow of Sunwood Expressions are holding a Barn Quilt workshop at Whitlocks Sewing and Vacuum on Saturday May 18 or July 20, 2019 from 10:00 – 4:00.
What if you don't have a barn?  Some ideas for displaying your Mini Barn Quilt include: inside or outside your home, on the outside of your garage, or shed, on a fence, as an art piece in your garden or anywhere you want to display your creativity and favorite colors.  The workshop includes all materials (board, paint, tape, brushes etc.).  Your Barn Quilt is cut to size from high quality Medium Density Overlay (MDO) plywood.  Your block comes primed and ready for exterior grade paint in the colors of your choice.  You go home with a finished barn quilt you can display indoors or outside!
What if you aren't a quilter?  No problem, no cutting or sewing required.  You'll receive instruction and support while having fun!
Sign up at:
Whitlocks Sewing and Vacuum
455 Court St. NE
Salem OR 97301
503-585-7771
Free Parking for the day at Chemeketa Parkade Downtown Salem
────
Cost is $85 and includes all supplies and light snacks.  Please plan to bring a lunch.
You have the choice of painting a 12", 18" or 24" block.
────
Over 20 patterns will be available to choose from and emailed to you before the class so you have the option to choose your favorite design before class.
────
Questions for the instructors? Contact info:
SunwoodExpressions @yahoo.com
Sunwood Expressions, LLC
463 Sunwood Dr NW
Salem OR 97304
503-409-2953
Find Sunwood Expressions on Facebook and Instagram
We ask that you register for a class in advance. Payment is due at time of registration. You may make payment with a credit card over the phone or come into the store. Class size is limited and in many classes, we have waiting lists. If you are unable to attend a class, please call to cancel your class registration 5 (five) days prior to the date of the class. See Refund Policy located under the Calendar Section.